Unless you are lucky enough to take vacations to a sunny warm place during our winter months, you are probably noticing your skin changing. This usually happens around the first week of January when all the festivities with Christmas and New Year's is done. We start feeling a little pasty and much more dehydrated.
First, I always suggest to kick up your moisturizing routine with HA5 from Skin Medica. Using one pump under your moisturizer helps keep hydration in the skin so your skin looks like it's alive again.
Second, bronzers work wonders for skin that needs a little color to give yourself a healthy glow.  There are many, many bronzers on the market. I'm not saying to pick a color that makes you look like you've been at the beach all day. I am talking about a nice healthy glow.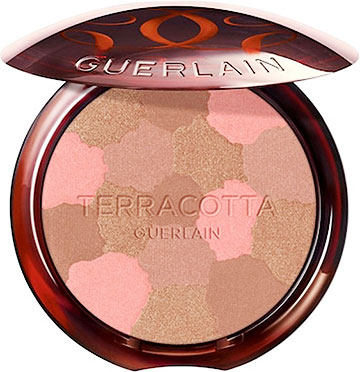 For over 35 years, Terracotta from Guerlain, has been considered the elite of bronzers on the retail market. This French company, known for their fine fragrances, skincare, and makeup, also has the most wonderfully finely milled powders.
Terracotta Bronzing powder started with only two colors. Terracotta, the original and Terracotta Dore for the lighter skinned clients. It quickly became a success and along came Terracotta for Men that came in a unique shaving applicator. That did not last very long because there were many that enjoyed the less warm and more cool tone of this unique bronzer. From there, Terracotta #3 was born to be used by all genders.
During the years, Terracotta grew and now, there is Terracotta Light. The color ranges from 00 Light Cool to 05 Deep Warm. It still comes in the original Tortoise Shell compact and smells like a warm Parisian fragrance…ylang-ylang, orange blossom with vanilla and tonka bean. The application goes on lighter than the original Terracotta and still has the hydrating ingredients found in all the powders.
This bronzer, I believe, gives the best results for a Chicago winter face that needs a quick "pick me up" which can be found on the Guerlain website.
For a private session on looking your best during the dead of Chicago winter, book your appointment today.