This Pandemic has many people going on Zoom for work, social gatherings, and just to keep in touch.
Makeup has been put off to the side, as it is not a necessity at this point. Although, we thrive to look our best on a daily, but have much less time to take a few moments to be ready before our first Zoom meeting.
Claudio Riaz has made a very easy way to put on a Zoom face in literally minutes.
I have written about his products before.  I adore his Instant Face, Instant Bronze, Wet/Dry brush, and his Instant Set spray.  I have taken these pieces with me on trips where makeup is natural, minimal, and FAST!  It's also very gentle on the skin and adds a warmth of color that is dewy and beautiful for any skin type and any age.
Being over 50 years old, I don't want to look like I tried too hard with my makeup routine, and, I don't want to be falling apart in the middle of the day!  This is a "put it on and forget it" product.
Simply swipe the Instant Face palette with the Wet/Dry brush, apply in a "3", and instantly look alive. You can do the same with the Instant Bronze for added warmth and contour.  Add a touch of mascara and a little brow to open the eyes.  I use the Instant Flush color in the palette, alone, for cheek color and lip color.  Since this is a mineral powder, I add a lip balm or gloss for moisture.
Seal the whole face up with Instant Set.  If you need to wear your mask, this setting spray will be able to be less transferable on your mask.
Instant Face comes in 3 shades…#1, #2, #3
Instant Bronze comes in 3 shades…. #1, #2, #3
Wet/Dry brush
Instant Face Set
Claudioriaz.com – Use Promo Code – REGINA for 10% off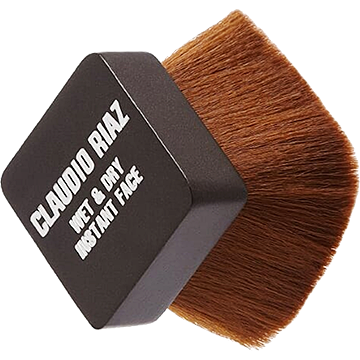 Claudio Riaz Wet/Dry Brush
The Wet/Dry brush is ideal for the application of complexion products in cream texture or powder palettes.  The square brush is easy an easy to grip lightweight blending brush, about the size of a small fist and is made out of synthetic material.  The synthetic hair allows the products to go on flawlessly with little effort.  This brush was designed to use with the Claudio Riaz products but can be used for any powder or cream foundation, or anything to use to enhance your complexion, be it bronzer, highlighter, or foundation.  Because it is square, it is a good tool to use the sides of the brush as a contour tool, as well.
It is important to know that when you wash the brush with a foaming brush cleaner, you must towel off the excess water with a towel, then, lay flat till dry.  Because the synthetic hair is dense, it can take up to 24 hours to dry.  You may also use an instant brush cleaner to keep fresh before a wash is needed. Be gentle and don't pull the hairs.  This can result in unnecessary shedding.  You should be able to keep this brush for many years if it is taken care of correctly.
To apply the palette with the Wet/Dry brush, simply glide the brush over the entire palette back and forth and apply in a "3" on the face starting on the forehead to the cheeks to the jawline on each side of the face.  This is the recommended instruction the artist, Claudio Riaz, uses it.  It's the fastest most efficient way to use the palette.  Any other way may result in overuse.  Cream foundations may take a little extra blending. 
Instant Face and Instant Bronze Palettes
There are 5 colors to each palette that, when applied all together, give the color of healthy skin.  There are 2 powder foundation skin colors, one bronze color one blush color, and a medium tone color that gives radiance.  It's not shimmers, just shine.  Altogether gives a perfect application of foundation that looks like you've been working out outdoors.  Because the powders in the palette are not of the same coverage, you may run out of color before finishing the palette.  This is common.  For instance, I use the Instant flush blush color on my cheeks after I apply the whole palette.  I also may use more of the flesh tone color alone for extra coverage.  The great thing about that is that each color is refillable.  The pallets used every day should last you about 6 months before another fresh palette may be needed.  Again, this depends on what was refilled and what wasn't.
Every age group and every color skin from light to medium to dark to very dark can use the Instant Face and Instant Bronze.  It comes in 3 shades, 3 being the darkest.  Light to medium would be #1, Medium to dark would be #2, and Dark to Darkest skin tones would be #3.
Because the powders are minerals, the powders used altogether may soften the look of wrinkles.  This is not a drying powder.  Used with the Face Set, the application in combination is moisturizing.
The Instant Bronze is applied the same way.  You can use it alone, but it doesn't give coverage for imperfections on the skin.  If you do like a little coverage, use the Instant Face first, then use the Instant Bronze on top of it.
It's easy to travel with, but, remember, it's a powder palette, so, it can break.  You want to make sure it is secure in your bag when carrying.
Instant Face Set
Polymers bond instantly with the makeup to create a dewy, fresh finish while hydrating the skin all day.  It locks the makeup in for longevity.  This exclusive formula creates an antioxidant barrier for superior anti-aging protection. Hyaluronic Acid plumps fine lines and hydrates.  It also helps in helping the makeup stay put and not transfer to other materials as much, such as clothing.
Although most people can use this product, there have been some issues with sensitivity because of the ingredients.  This product does contain alcohol.  Rosacea skins may have a fare up with use and some sensitive skins may react in redness.  This all depends on the individual.  Most don't react at all, but I have noticed that reactions may occur most often with Rosacea skins.  If this should happen, simply wash the face with your appropriate cleanser.